AFH
Automated Fluid Handling System
The world leader in vaccine purification, now offers a fully automated, customizable fluid handling system in a self contained, mobile work station that supports fluid filling and fractionation.
Download brochure

❯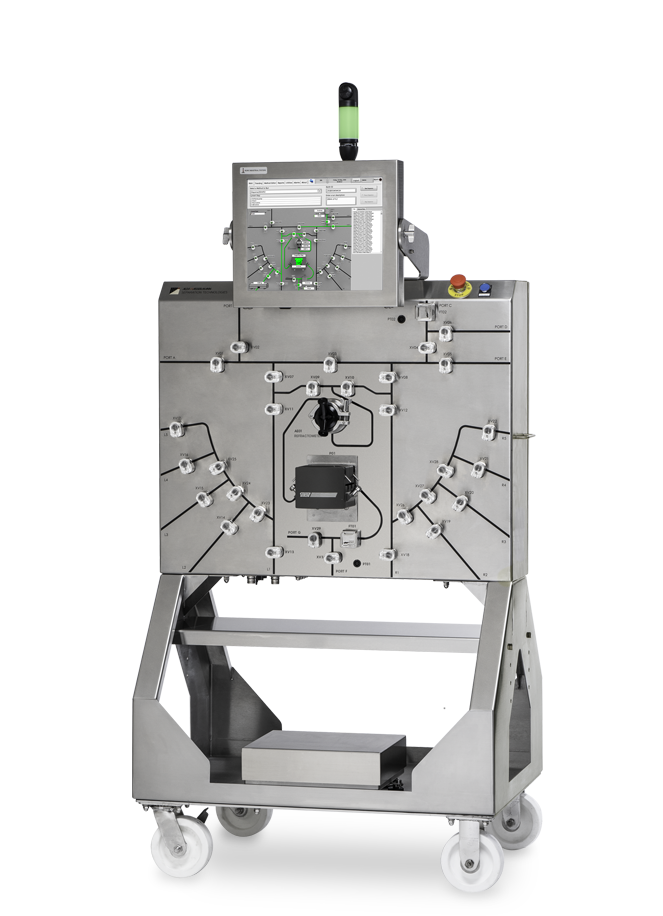 System design includes pinch valves for routing of fluid; pumps for flow and direction; flow, pressure and temperature monitoring for process monitoring; and an in-line refractometer for fluid fractionation and monitoring.
Alfa AFH software comes with standard fluid handling protocols. Custom protocols that include sanitation, rinsing, filling, fractionation and other methods can be programed on site by the user. The system integrates with your network to utilize upstream/downstream inputs and outputs via OPC.

Fully automated filling and fractionation of ultracentrifuge density gradient process.

Real time and stored reporting of critical process parameters.

Standard and customized parameters programmable by the operator to adapt to a range of process steps.

Compact, mobile, self-contained with reservoir and process bag storage shelf.
Features
Benefits
Standard and customizable processes

Model existing SOP's
Repeatable sequences without variation can result more consistent batches
Simplifies operator training
Reduced procedural errors that can result in rejected batches

Domain authentication of system operators

Eliminate the need for special operator databases and database maintenance by integrating with existing facility security policies

SQL Server database stores all methods, batch data and audit logs

All information is stored locally in a 21 CFR Part 11 compliant database
Access to all data is provided to the facility system administrator

Storage and real time monitoring of critical parameters: pressure, flowrate, temperature, weight and Brix value

Network integration allows the AFH fluid handling system to react to and respond to other facility equipment
Batch records integrated with facility data history

IP65 Enclosures, non-contact pump, flow and temperature monitoring, disposable pressure transducers

System can be cleaned without special preparation
Removable stainless steel flow cell allows for easy cleaning of the prism and fluid path

Expandable

Specific customer instrumentation can be integrated into the fluid handling system