KII
Manufacturing Scale Ultracentrifuge
The Choice For Industrial Scale Production and Downstream Processing
Download brochure

❯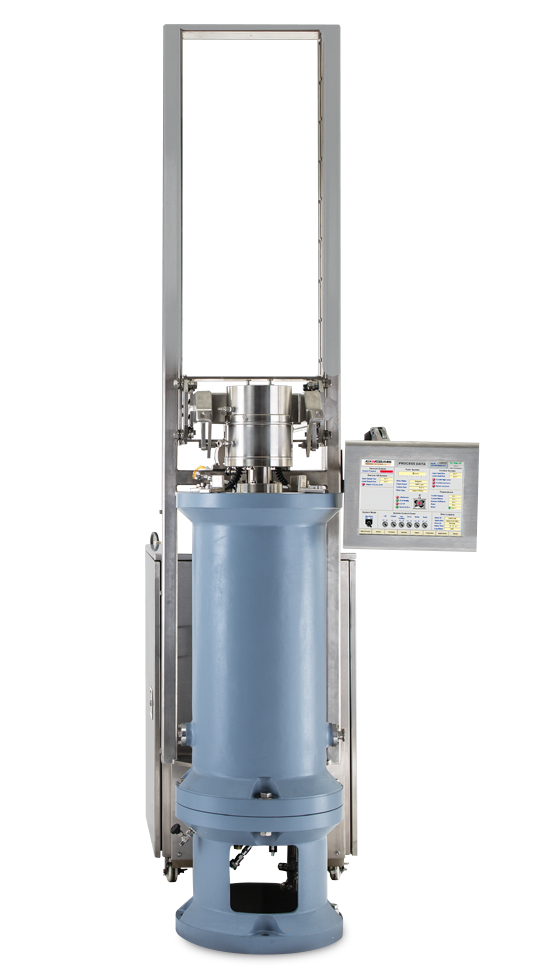 Alfa Wassermann's extensive experience in the design, manufacture, service and support of continuous flow Ultracentrifuges in the vaccine manufacturing industry culminates in the KII Ultracentrifuge. The KII's control system has all the features expected from modern bioprocess equipment. The large rotor volumes allow for high process volumes for manufacturing vaccines and other bio-products.
Highly regarded for its versatility, reliability and ease of operation, the KII is the benchmark for quality in the large scale commercial preparation and production of bioprocess materials.
KII Manufacturing Scale Ultracentrifuge
The high speeds and capacity of the KII together with its separating efficiency, reliability and ease of operation have made this instrument the system of choice for established pharmaceutical organizations and start up companies.
The KII Ultracentrifuge has a range of rotor assemblies to choose from to suit vaccine and viral vector purification and manufacturing.
| Specification | |
| --- | --- |
| Throughput: | 60 l/h |
| Rotor capacity: | up to 8.4 liters |
| Speed: | 40,500 rpm |
| Centrifugal force: | 121,000 xg |
| Rotor temperature monitoring | |
| Automatic and Manual Control | |
The KII features:
Up to 8.4L rotor capacity and 200L process volume
Batch, Alarm and Event logs
User password access for operations with an auto logout facility
BL2+ environment compatible
Closed loop seal cooling contains any aerosols generated
Clean room class C/D compatible
Complete validation support
Conformity to: CE, 21CFR Part 11, GAMP
The benefits of continuous flow ultracentrifugation are:
Greater than 80% product yields
Single step concentration and purification
No pre-concentration of harvest material required.
No buffer exchange diafiltration needed.
Pre-clarification option with the K6 rotor
Retains the infectivity of viruses in the low shear gradient envir
Air Drive, Electrical Drive technology
Drive technologies are available as electric motor or air drive. Air drive technology is the industry standard and provides a truly proportional control of speed and acceleration for reliability and long life operation.
The 'e-drive' combines the ultracentrifugation technology of the Alfa Wassermann KII with up to date electric drive technology, to create an Ultracentrifuge which is reliable, compact and low cost to run for Bio-pharmaceutical R&D and for cGMP manufacturing.