Alfa Wassermann's continuous flow ultracentrifuge efficiently captures AAV vectors of any serotype.
Significantly improved recovery level – up to 50%
Achieves expanded yields with continuous flow loading.
Dramatically reduce turn around times over conventional column purification.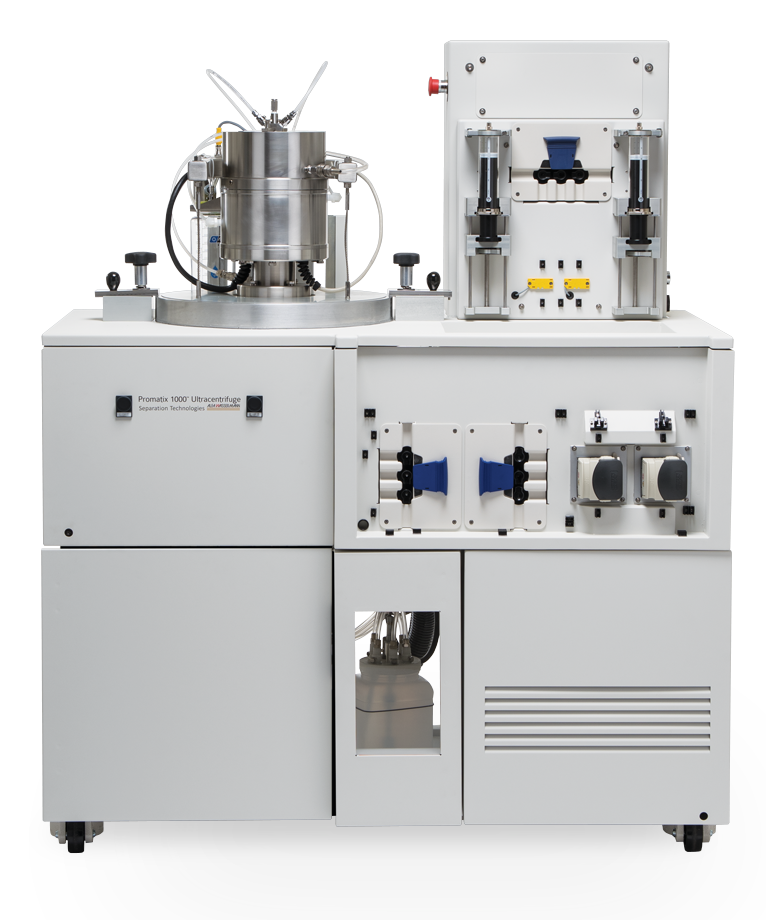 Successful Adeno associated virus (AAV) vector purification has been achieved in large quantities using the Alfa Wassermann AW Promatix 1000™ continuous flow ultracentrifuge*.
Sf9 cells were cultured, expanded and then infected for viral vector production using recombinant baculoviruses. Cell pellets were subject to lysis, DNA digestion then clarification by low speed centrifugation in preparation for loading to the continuous flow ultracentrifuge.
The continuous flow ultracentrifuge used a 120ml rotor containing an Iodixanol density gradient, through which the clarified lysate flows while the ultracentrifuge rotor is spinning at 35,000 rpm, 100,000 xg.
During the product loading phase simultaneously waste material will flow out of the rotor and the viral vector will be captured in the gradient and be concentrated. During the run time the vector reaches its iso-dense layer and is concentrated.
At the end of the run the AAV is harvested with a 50% yield and found to be essentially pure using one-step purification.
* Patents pending
Download the Promatix 1000™ brochureEffectively capture AAV vectors of any serotype ❯